This is the ordering website for Saddle Ridge Farm in Culpeper VA.
(Our main website is found here - http://saddleridgefarm.net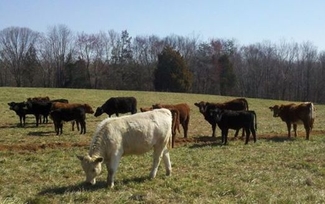 Please note that prices are subject to change.
Most pork and chicken items are in stock. We will be replenishing our beef cuts next month. Thank you all for the high demand!
Saddle Ridge Farm is a family-run, sustainable farm in the Culpeper, VA area. We provide natural meats without added hormones, antibiotics or man-made additives. The feeds provided to animals raised on Saddle Ridge Farm are non-GMO.
Our farm is located on 115 beautiful semi-wooded acres. The cherished land has been in the Farrish family for over 40 years.
In 2010, after careful consideration and study of sustainable farming methods, Saddle Ridge Farm was established with the goal of producing food that is far better for people than commercially produced food. We believe that most people prefer better food for their families, but don't have the lifestyle, means or land to produce it independently. We have found it very rewarding to be in the position to provide such a service.
We raise beef cattle, pigs, broiler chickens, egg-laying hens and rabbits.  Our animals are treated humanely, and live a good life in a manner that's well suited to their nature.  They live off the land, and in the process, enrich it.
Saddle Ridge Farm is transparent in every aspect, feel free to contact us for a private or self-guided tour.
---
 
Farm Pickup
You can order from our inventory at any time if you want to come to the farm to pickup your order.  Just place your order and we'll contact you to arrange a pickup time.
  Not ready to order?  Be sure to Join Our Newsletter so we can let you know about events & specials! 

Neighborhood Delivery
Our Neighborhood Delivery program is a convenient way to get better food for your family. Please don't hesitate to contact us if you have a group in our region interested in obtaining quality meats.
Product Availability
To see the products we have available at this moment, simply click on any product categories to the left.  Quantities are limited to what you see.  As orders are placed, the quantities go down instantly.  We update the inventory as new foods become available. 
There is no minimum order size.  You can order anything you see listed.
Naturally, our inventory is changing all the time, and our supply of certain cuts is limited by nature's design of animals.  We need to market all the parts, and everything we sell has healthy and tasty applications.  It's all in knowing what to do with them.  We can help you with that, if you have questions.
Note that many products are priced by weight, so the exact pricing will not be known until we select the actual items that will fulfill your order.  However, the shopping cart will show the approximate total cost for each item.  When the order is placed, you will receive an immediate confirmation email with a copy of your order, including the approximate pricing.
---
We Appreciate Your Business
We work hard to provide healthy, wholesome products to our customers in the region.  You won't find meat products like ours in your local supermarket.  Their meats are from an industrial farming system that abuses the environment, the animals, and ultimately, your health.  Our meats are raised in a way that's environmentally sustainable, truly humane, and naturally healthy. 
Please order from us in the knowledge that you are doing the right thing for your family, your region, and our small business.  Let's build a better future together.